Spicy Red Pepper Hummus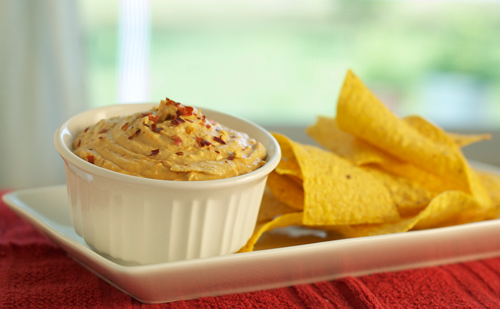 Total Time:
Prep
Inactive
Cook
Yield:
Level:
6 min
1 min
min
5 min
4 servings
Easy
This spicy red pepper hummus is one of my favorites...it has a really nice kick! This mouthwatering spread brings the heat. If you like spicy this one is for you!

Hummus as a whole contains plenty of Omega 3 fatty acids, which are great for improving intelligence and maintaining a healthy heart. On top of it all, this dish also has iron, vitamin B6, manganese, copper, folic acid, and amino acids. Tryptophan, phenylalanine, and tyrosine are the amino acids found in hummus that can promote good quality sleep and uplift ones mood.

Hummus is loaded with nutrients that can contribute to a healthy lifestyle. Include this in your diet by using it as spread on sandwiches and wraps, as dressing to your salad or pasta, as dip for raw vegetables, or as side dish for main courses.
:
2 15-ounce cans chickpeas (garbanzos), one drained, one with liquid
1/4 cup (35 g) raw sesame seeds
1 tablespoon olive oil
1/4 cup (60 ml) lemon juice
1-2 garlic cloves, peeled
1 teaspoon ground cumin
1 small chili pepper
1/2 teaspoon crushed red pepper flakes
Sea salt, to taste
Crushed red pepper flakes for garnish (optional)
1. Place all ingredients, except salt, into the Vitamix container in the order listed and secure lid.
2. Select Variable 1.
3. Turn machine on and slowly increase speed to Variable 10, then to High.
4. Blend 1 minute, using the tamper to push the ingredients into the blades.
5. Season to taste with salt. Garnish with red pepper flakes (optional)