Asian Chicken Lettuce Wrap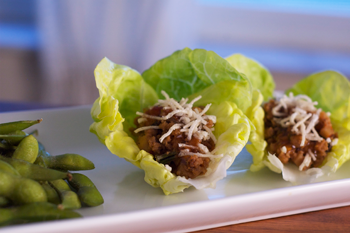 Total Time:
Prep
Inactive
Cook
Yield:
Level:
15 min
5 min
min
10 min
6 servings
Easy
This is a great asian inspired dish. Asian Chicken lettuce wraps are a quick and easy recipe. They are a fun dish to eat, either as a main dish or an appetizer. Serve the filling on a platter with whole leaves on the side, and let your friends and/or family wrap their own. Everyone will love the combination of crisp (cold) lettuce with (warm) flavorful chicken filling. This easy recipe makes a low-calorie, low-fat treat that's also very nutritious. Thinking about entertaining? Lettuce wraps also make a great party food! Quick tip: You can make the chicken mixture a day in advance and reheat before filling the lettuce leaves.
:
1 lb organic boneless skinless chicken breasts, cubed
1 1/2 tablespoon sesame oil, divided
3/4 cup chopped fresh mushrooms, shiitake
1 can (8 ounces) water chestnuts, drained and diced
1/2 teaspoon garlic, minced
1 tablespoon fresh ginger root, minced
1 1/2 tablespoons rice vinegar
1 1/2 tablespoons reduced-sodium teriyaki sauce
1 tablespoon reduced-sodium soy sauce
1/4 teaspoon crushed red pepper flakes
1 cup shredded organic carrots
1/2 cup green onions, chopped
12 Boston lettuce leaves
6 teaspoon red pepper chili sauce (optional)
3 teaspoon rice noodles (optional)
1. In a large nonstick skillet heat 1 tbsp oil and cook chopped chicken for about 3-4 minutes; drain.
2. Add the remaining 1/2 tbsp oil, the mushrooms, water chestnuts, garlic and ginger; cook 4-6 minutes longer or until chicken is no longer pink. Drain and set aside.
3. In a small bowl, whisk the vinegar, teriyaki sauce, soy sauce, red pepper flakes. Stir in the carrots, onions and chicken mixture.
4. Spoon mixture onto lettuce leaves divided evenly. Top each wrap with 1 teaspoon of red pepper chili sauce and 1/2 teaspoon rice noodles.