Double Chocolate Muffin Delight Smoothie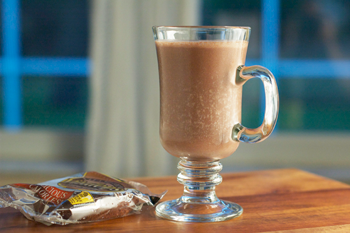 Total Time:
Prep
Inactive
Cook
Yield:
Level:
3 min
2 min
1 min
min
4 servings
Easy
If you love chocolate as much as I do, you will love this one...and it's only 245 calories!
:
2 deep chocolate vitamuffin vitatops (found in the freezer section)
1 cup (240 ml) vanilla almond milk
2 cups organic chocolate low-fat frozen yogurt
1 cup (240 ml) ice cubes
1. Make vitamuffin vitatops according to directions on the box. Wait till they come to room temperature to proceeded to the next step.
2. Place all ingredients into the Vitamix container in the order listed and secure lid.
3. Select Variable 1. 4. Turn machine on slowly increase to Variable 10, then to High.
4. Blend for 30 seconds or until desired consistency is reached. Serve immediately.